Dance of Death
The Metnitz dance of death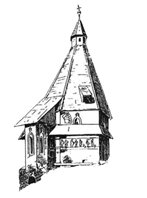 This brief term refers to two great cultural achievements in Metnitz, the CYCLE OF FRESCOES with its text banner underneath on the wall of the ossuary, and a FOLK PLAY performed in front of the ossuary by amateur actors and choirs from Metnitz.
Both forms of presentation go back to the Middle Ages, and deal with the same subject: the fact that everyone is equal before death, which does not recognise differences in either social status or age. All too often the figure of Death appears unexpectedly and remorselessly before individuals people, seemingly fetching them "for the dance".
The texts written along the line of frescoes and those of the play are different. The quatrains placed on the lips of Death and his victims on the fresco were taken from the Heidelberg blockbook (printed in Basle in 1465). The play, which was originally theological and mainly preaches penitence, is an amalgamation of various song texts. The tradition of the play originated from monasteries and towns, and was preserved amongst the peasant population. Thus the dance of death was still performed in the region around in 1870, and in 1924 it was recorded there as the "Carinthian dance of death".
On 28 July 1957, the dance of death was restaged through the initiative of the mayor, Med. Rat Dr. Hans Staunig.         
The play is performed periodically in Metnitz as the "Metnitz Dance of Death", enhanced by Carinthian songs about death. 
The content is simple and straightforward: the angel declares the theme:
"Auf, auf, o Mensch, mach dich bereit, ... es gilt ein Kranz, der Tot rufet allen nach sein Gefallen zu seinem Tanz."
["Arise, oh people, get ready and find your wreath … you are summoned to the dance at the pleasure of Death."]
Once Death has fetched everyone to his dance, one after another, the play ends with the realisation:
"Tretet all zu meinem Reigen dar,
die ihr das Leben schon habt gegeben
in Gottes Händ zum seligen End!"
["All of you who have had your life
given to you by the hand of God,
step up to my round dance for your blessed end!"]